Understanding NWS Weather Hazards
1/25/2021 (Permalink)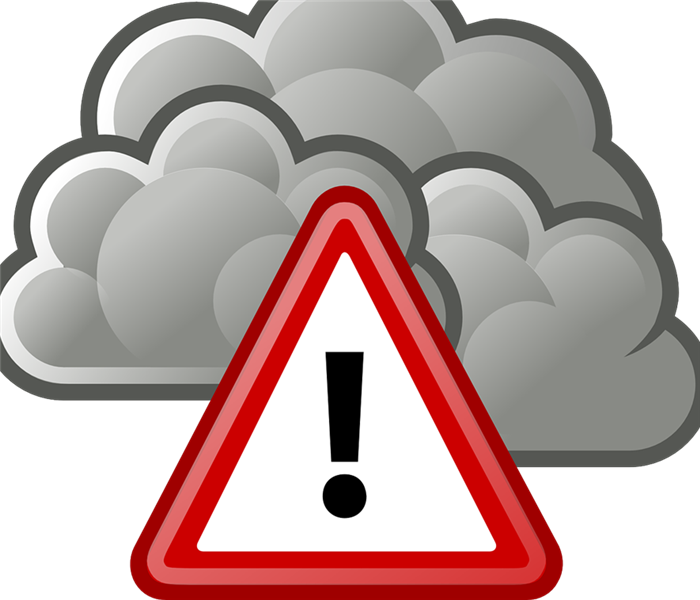 We all get the weather reports but do you know what they mean? The difference from one word to the next could mean more than you think.
You've probably been watching TV or looking at your phone when a weather warning was issued by the National Weather Service (NWS). Depending on where you live, you may have not taken too much notice. A thunder or wind storm, after all, do not always cause so much damage. On the other hand, tornadoes do, and your ability to understand and react to weather warnings in those cases could mean the difference of life and death.
But what are the NWS weather hazard designations? They are not at all randomly chosen-- although words like "advisory" and "warning" may sound like they're conveying the same meaning, they are actually two very different designations with very different implications to those who hear them. Here's a quick rundown of what these levels mean:
1) Outlook
A weather outlook is the first level of hazardous weather as defined by the NWS. This is the least serious designation, and means that hazardous weather is predicted to occur within the next 3 to 7 days. People are told to be aware of the coming weather and to stay updated as the storm grows nearer.
2) Advisory
A weather advisory is the second level of hazardous weather when bad weather has actually arrived and people are told to exercise caution. This designation means that the weather is less serious, but can still cause inconvenience to those in the area.
3) Watch
This NWS designation is considered "more serious" and defines a situation in which "there is increased risk of a hazardous weather event, but its occurrence, location, or timing is still uncertain". People are told to listen for updates and be prepared to take action when the weather eventually materializes.
4) Warning
The most serious designation used by the NWS, and one that you should always pay attention to, is an issued weather warning. This is when "a hazardous weather event is occurring, imminent, or likely, and a threat to life or property exists." These are the types of designations that are issued during tornadoes and other weather hazards, and should always be acted on immediately.
You should always take care to pay attention to weather warnings and forecasts. Although in the case of an advisory you may have a few days to prepare, other times there may only be a few short hours until you may have to make more drastic decisions to protect your property and loved ones. Stay prepared year round and stay safe!